News: LEDs
18 June 2020
Seoul Viosys' Violeds UV LED technology adopted by Chinese air-conditioner manufacturer Gree
Ultraviolet LED product maker Seoul Viosys Co Ltd (a subsidiary of South Korean LED maker Seoul Semiconductor Co Ltd) says that its Violeds technology (claimed to be the first UV LED technology proven to sterilize new coronaviruses) has been adopted for the new Fresh Air brand produced by China's largest air-conditioner manufacturer Gree Electric Appliances Inc.
The Violeds UV LED technology adopted for Fresh Air is said to provide robust disinfection on the surface of the evaporator, as well as sterilization of any indoor airborne contaminants drawn into the air conditioner (including various harmful viruses and bacteria), ensuring that fresh air is continuously discharged. Conventional household air conditioners typically draw outside air into the AC unit, and discharge that air into the interior after cooling and filtering, where it is continuously recirculated. This recirculation of indoor air may cause a higher risk of infection through aerosol transmission when viruses are present.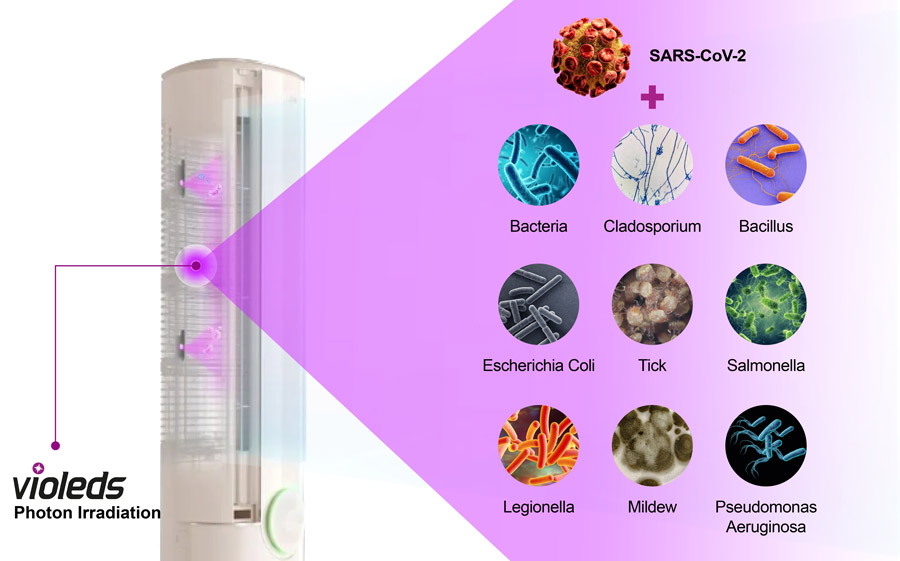 Picture: Violeds UV LED technology adopted for Gree's new air conditioner.
In testing by Guangzhou Institute of Microbiology in China (CGMT), Gree has demonstrated that Fresh Air with Violeds UV LED technology has the performance to sterilize 99.15% of viruses and bacteria, 98% of enteroviruses such as EV71 and H1N1, and 99% of staphylococcus albus bacteria. In addition, according to the results of testing conducted in April and May by a research group at Korea University, Violeds UV LED technology has been proven to sterilize 99.9% of the new coronavirus in 30 seconds. Seoul Viosys provides major customers with optimized UV LED solutions based on these testing results.
"Since air-conditioning systems operate by circulating indoor air drawn in and discharged again, aerosol transmission is a concern when using these systems. In South Korea, health authorities rolled out a new guideline for citizens to prevent aerosol transmission, which included advising people to open windows every two hours when using their air conditioners," notes Seoul Viosys' executive VP Chae Hon Kim. "We offer an optimized solution to simultaneously enable disinfection of viruses in air, as well as air purification by disinfecting the air drawn into air conditioner and eliminating viruses in air using Violeds technology. As more applications adopt the Violeds technology to support healthy life, the cost of UV LEDs is anticipated to be reduced to a level closer to visible white LEDs," he adds.
"Seoul Viosys' Violeds technology has been adopted not only by the Chinese AC manufacturer Gree, but also by RGF Environmental Group, the leading in-duct air treatment supplier in the USA," continues Kim. "As a result of receiving production approval to supply Violeds products to these two leading global companies, Violeds UV LEDs have clearly been recognized as essential technology for air purifiers and air conditioning systems."
Seoul Viosys' Violeds technology adopted for automotive indoor sterilization
SETi's Violeds technology provides sterilization of Coronavirus in 30s
Tags: Seoul Semiconductor UV LEDs
Visit: www.seoulviosys.com