News: Suppliers
18 March 2020
Aixtron meets 2019 guidance for order intake, sales, gross margin and EBIT margin, aided by strong Q4
For fourth-quarter 2019, deposition equipment maker Aixtron SE of Herzogenrath, near Aachen, Germany has reported revenue of €75.1m, down 15% on €87.9m a year ago but up 43% on €52.6m in Q3/2019. "We have seen a continuing improvement of the business after the challenging second quarter last year caused by the geopolitical environment," says president Dr Bernd Schulte.
Full-year revenue was €260m, at the bottom end of original guidance range of €260-290m but down just 3% on €268.8m in 2018. In particular, sales of spare parts & services grew by 11% from €47.1m to €52.4m (rising from 18% to 20% of total revenue), while equipment revenue shrank by 14.5% from €221.8m to €207.3m (falling from 82% to 80% of total revenue).
Of equipment revenue, the proportion from metal-organic chemical vapor deposition (MOCVD) systems for manufacturing optoelectronic components (i.e. lasers and solar, excluding LEDs) declined as expected (falling back from 66% to 43% of total revenue) after the particularly strong laser business in 2018 did not repeat in 2019. However, systems for producing LEDs – including red-orange-yellow (ROY) and specialty LEDs – nearly doubled (rebounding from just 16% to 35% of total revenue). Revenue from systems for manufacturing power electronics doubled (growing from 8% to 18%).
Asian revenue has rebounded from 54% of total revenue in 2018 to 68% in 2019 (rising by 23% from €144.7m to €177.4m, including China rising by 65% from €72.6m to €119.7m while Korea fell from €11.9m to €4.6m and Taiwan from €43.2m to €33m). Meanwhile, the Americas fell back from 20% to 16% (shrinking by 23% from €54.4m to €41.9m) and Europe fell back from 26% to 16% (down by 42% from €69.7m to €40.3m).
"Our strategy to serve multiple end applications with one product platform has proven to be very effective in 2019," says Schulte. "We were able to largely compensate for the somewhat weaker sales in the laser/VCSEL [vertical-cavity surface-emitting laser] segment, primarily through sales in power electronics and specialty LEDs, and thus achieve an operating result similar to that of the previous year."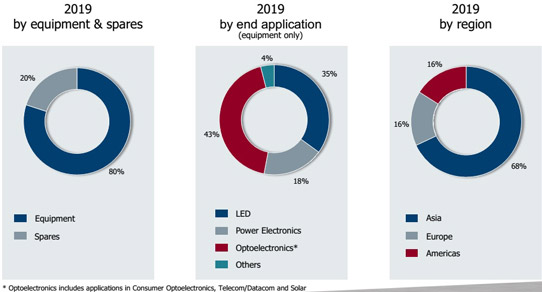 Cost of sales was roughly level with 2018's €151.2m, at €150.9m in 2019, but rose from 56% to 58% of revenue due to lower-margin ROY LED systems shipped in first-half 2019.
Full-year gross margin has fallen from 2018's 44% to 42% for 2019, due mainly to the different sales mix (with more sales into the display market in first-half 2019) partly offset by a favorable dollar exchange rate. However, this is above the original guidance range of 35-40%. Also, Q4 gross margin was 45%, level with a year ago and recovering further from Q1's low of 39% and 42% in Q3.
Full-year operating expenses were cut from 2018's €76.2m (28% of revenue) to €69.7m (27% of revenue) for 2019. In particular, selling, general & administrative (SG&A) expense fell from €27.7m to €26.4m (remaining 10% of revenue), due mainly to lower project-related advice costs and lower variable pay. This was despite staffing rising from 628 to 688 people (as the positive business development leading to new hires). Research & development (R&D) expenses have been increased by 5% from €52.2m (19% of revenue) to €55m (21% of revenue), as product development for MOCVD systems (including power electronics and micro- and mini-LEDs) increased significantly in 2019 over 2018. In particular, this came mainly from activities related to the finalization and launch of the new tool for silicon carbide (SiC) power electronics.
Net other income rose from €3.8m to €11.6m, due mainly to an increase in R&D grants received from €4.7m to €7.9m as a result of a higher number of publicly funded R&D projects.
Full-year operating result (EBIT) has fallen from 2018's €41.5m to €39m in 2019 (though remaining 15% of revenue, and above the originally forecasted EBIT margin of 8-13%). Although down from €20.8m (24% of revenue) a year ago, quarterly operating result almost tripled from €5.5m (10% of revenue) in Q3/2019 to €14.4m (19% of revenue) in Q4/2019.
Full-year operating cash flow improved from €11.9m in 2018 to €42.8m in 2019, because 2018 cash flows included both €12m of open payments related to the sale of the ALD/CVD business in 2017 as well as increases in inventories and receivables. Capital expenditure (CapEx) and interest received amounted to -€6.8m. So, full-year free cash flow in 2019 was €36m (up from 2018's €4.4m), due mainly to a stable level of working capital in 2019 compared with increases in the previous year. "Free cash flow was higher than guided [€15-25m], due to the substantially higher cash inflows towards the very end of the year," says Schulte. Free cash flow was €37.8m in Q4, up from just €2.6m in Q3, and -€4.9m in first-half 2019.
Inventories rose from €73.5m to €79m, including around €5m of prototype systems. Very good cash collections from customers in December cut trade receivables from €40.1m (36 days sales outstanding) at end-2018 to €29.2m (30 days sales outstanding) at end-2019. Advanced payments received from customers of €51m was similar to the end of 2018, but increased by €7m in Q4, reflecting the good order intake. Advanced payments comprise 44% of the order backlog.
Because of the lower receivables and increased customer advanced payments, the cash balance rose to €298.3m at the end of 2019, up from €260.6m at the end of Q3 and €263.7m at the end of 2018.
"2019 was a challenging year in which Aixtron successfully maintained its leading market position in MOCVD equipment and applications," says Schulte. "Despite a market environment characterized by political and economic uncertainties, we met our full-year guidance."
In 2019, Aixtron invested significantly in the development of new or enhanced products for all major applications. The launch of the new fully automated, high-throughput silicon carbide (SiC) production tool in September was followed by first customer qualifications and orders for the AIX G5 WW C system.
"As part of this comprehensive product initiative, we have been working intensively on the enhanced next-generation MOCVD equipment for optoelectronics and power electronics," says Aixtron. "In doing so, we focus on high-performance tools for the production of high-quality devices based on gallium arsenide (GaAs) and gallium nitride (GaN).
In the organic light-emitting diode (OLED) area, Aixtron's South Korea-based subsidiary APEVA continued in 2019 to work on the qualification of a Gen2 system (370mm x 470mm) together with a large Asian display manufacturer. APEVA expects a decision on the further development of this project this year.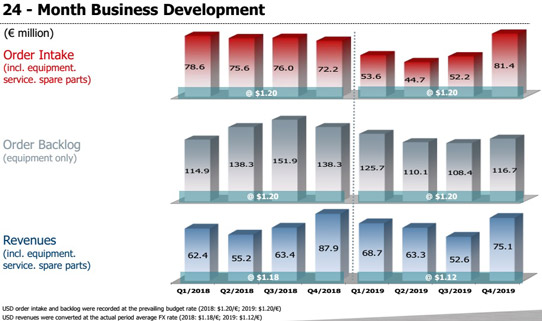 Total order intake (including spares & services) for 2019 was €231.9m, down 23% on 2018's €302.5m, due to "customers' hesitant approach to increase their capital expenditures against the backdrop of ongoing trade disputes and the uncertainty associated with this environment". However, this was above the most recent guidance of €220m, as the expected lower level of orders for MOCVD systems for the production of 3D sensing VCSELs was partially offset by demand for power semiconductors and telecoms production systems as well as by strategic investments of customers in mini- and micro-LEDs production feasibility projects. Most recently, orders in Q4/2019 were €81.4m, up 56% on €52.2m in Q3 and up 13% on €72.2m a year ago.
Equipment order backlog was €116.7m at the end of 2019, down 16% on €138.3m at the end of 2018 but up by 8% from €108.4m at the end of Q3/2019.
"In light of the many challenges we faced, we are very pleased with the past year," says Schulte. "We have met our full-year guidance [for order intake, sales, gross margin and EBIT margin] and further strengthened our global market leadership position in MOCVD equipment," he adds.
For full-year 2020, Aixtron expects stable to growing revenue compared with 2019. In terms of order intake, customer demand is expected across all technology areas. Due to this diversity, the development of orders in second-half 2020 is difficult to predict. "We are optimistic about the long-term positive outlook, both for demand for MOCVD systems for the production of 3D sensing lasers or lasers for optical data transmission as well as for LED-based display applications," says Aixtron. "In particular, we expect the demand for systems for the production of power electronics made of the wide-bandgap materials SiC and GaN to increase again in 2020 compared to 2019," the firm adds. So, based on its existing corporate structure, the assessment of the order situation and the budget exchange rate of $1.20/€, Aixtron expects order intake for full-year 2020 to grow to €260-300m.
Based on the equipment order backlog of €117m on 1 January joined by an estimated €98-138m of order intake shippable during 2020 plus an estimated €45m of spares & services revenue, for 2020 Aixtron expects revenue of €260-300m. Gross margin should be about 40% and EBIT margin should be 10-15% of revenue.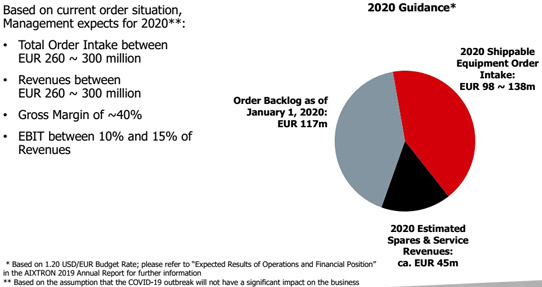 Expectations for 2020 include in full the results of the APEVA Group, including all necessary investments to further advance the development of OLED activities and are based on the assumption that the coronavirus COVID-19 outbreak will not have a significant impact on the development of Aixtron's business.
"Last year we paid particular attention to the development of new or enhanced products within our product portfolio. The successful start with our new production system for silicon carbide applications in 2019 was very promising," says president Dr Felix Grawert. "We expect the same from the enhancement of our next-generation products for optoelectronics and power electronics, which we will be bringing to market in the course of this and next year. In addition, we expect a decision on the further development of our OLED qualification project with a major Asian display manufacturer in 2020," he adds.
Aixtron year-to-date revenue grows despite export license delays hitting Q3
Aixtron presents next-gen AIX G5 WW C SiC epi production system
Aixtron returns to positive free cash flow in Q2/2019 after 19.5% year-on-year equipment revenue growth
Aixtron's Q1 gross margin and earnings exceed expectations
Aixtron full-year revenue up 40% organically to €268.8m
Visit: www.aixtron.com