News: Markets
2 August 2021
Smartphone shipments grow 17.4% from 555.4 million in first-half 2020 to 651.8 million units in first-half 2021
Global smartphone shipments grew 6.9% year-on-year (YoY) from 279.7 million units in second-quarter 2020 to 299.1 million in second-quarter 2021, according to Omdia's latest Smartphone preliminary result.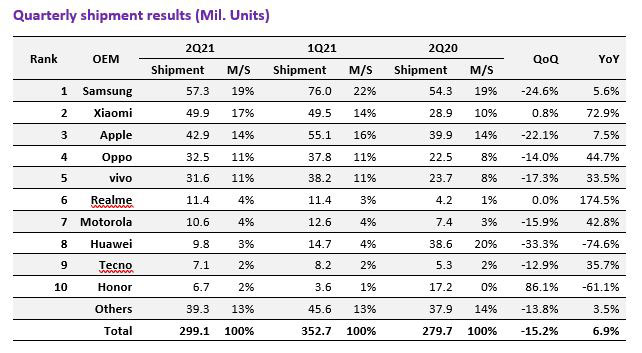 First-half shipments grew 17.4% from 555.4 million in first-half 2020 to 651.8 million units in first-half 2021.
In further signs of change in the global smartphone market, Xiaomi took the number 2 position for shipments in a quarter and the first half of the year for the first time. The firm shipped 49.9 million units in Q2/2021, second only to Samsung's 57.3 million. In first-half 2021, Xiaomi shipped 99.4 million units, behind only Samsung's 133.3 million. The era of Huawei as a key smartphone influencer has come to an end, believes Omdia.
Samsung took the top spot, shipping 57.3 million units, up 5.6% year-on-year on 54.3 million in Q1/2020. The mild growth was largely attributed to a supply constraint of key components and reduced operations at production facilities due to the spread of the Covid-19 Delta variant in India and Vietnam, where Samsung's main production bases are located.
Xiaomi reached second place in Q2/2021, shipping 49.9 million units – up 72.9% on Q2/2020. Xiaomi did not see shipments decline quarter to quarter, instead growing by just under 1% from Q1/2021 to Q2/2021. Xiaomi also experienced a decrease in production due to the spread of the Covid-19 Delta variant in India in Q2/2021, but the decrease in shipments was relatively small compared with Samsung. On the other hand, a significant increase in sales outside the Asia-Pacific region, where the spread of the coronavirus is severe, is the main reason for the increase in shipments.
Apple, in third position, saw shipments increase 7.5% year-on-year, due to a recovery in demand in developed markets and an increase in demand for premium smartphones in emerging markets.
OPPO and vivo reversed rankings again in Q2/2021. OPPO shipped 32.5 million units – slightly more than vivo's 31.6 million. Year-on-year, OPPO grew shipments by 44.7% and vivo by 33.5%.
Realme grew shipments by 174.5% from 4.2 million in Q2/2020 to 11.4 million units in Q2/2021, retaining 6th position globally again. Quarter-on-quarter, shipments were flat. Realme is one of the few OEMs that saw QoQ growth in Q2, along with Xiaomi and Honor.
Huawei shipped 9.8 million units in Q2/2021, down 33.3% on Q1/2021 and 74.6% on Q2/2020.
Motorola's shipments grew by 42.8% year-on-year, from 7.4 million units in Q2/2020 to 10.6 million units in Q2/2021. However, quarter-on-quarter, Motorola's shipments fell by 15.9%.
Transsion holdings brand Tecno grew shipments by 35.7% year-on-year, from 5.3 million units in Q2/2020 to 7.1 million in Q2/2021.
Honor rounds out the top 10, shipping 6.7 million units, up 86.1% on Q1/2021.
First-half 2021 performance
The rankings of Q2/2021 also reflect the rankings for the first half of the year to a large extend.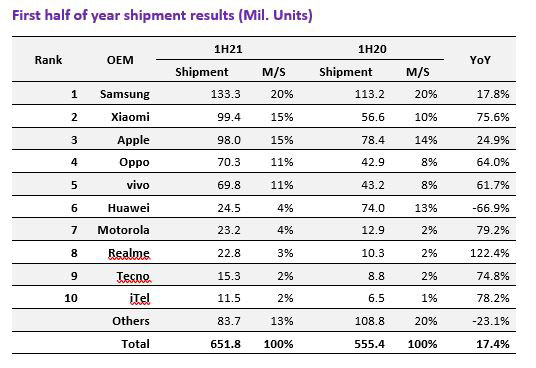 Samsung leads the way with 133.3 million units shipped in first-half 2021, compared to 113.2 million units in first-half 2020.
With its steady performance in the first two quarters of the year, Xiaomi secures second place, with 99.4 million units shipped so far in the year.
Apple is in third place with 98 million units, up 24.9% on first-half 2020.
For first-half 2021, Huawei retains sixth place, with 24.5 million units. However, that is a significant drop of 66.9% year-on-year.
Motorola and Realme are close in seventh and eighth position, with 23.2 million and 22.8 million units shipped in first-half 2021, respectively.
Instead of LG, iTel made 10th place. Transsion's sub-brands Tecno and iTel made it into the top 10. Including Infinix, Transsion is the 6th largest OEM worldwide.
"Despite the spread of the Corona Delta variant and the component shortages, smartphone shipments grew year-on-year in the second quarter," notes Jusy Hong, senior research manager, consumer devices. "However, Q3 shipments are expected to turn to negative growth compared to the previous year due to continued supply shortage and reduced demand," he cautions.
Smartphone shipments grow 28.1% YoY to 353 million in Q1
Tags: Smartphone shipments