News: Optoelectronics
13 January 2021
BluGlass completes optical coating manufacturing step for 405nm lasers
In an update on its laser diode business, BluGlass Ltd of Silverwater, Australia has reported the recent demonstration of strong output power from its standard 405nm laser design.
Laser diode product progress – 405nm coated, unpackaged lasers within target specs
BluGlass has advanced the development of its first standard laser diode product with completion of the optical coating step of the manufacturing process of several 405nm laser devices. The firm says that its 405nm laser design has demonstrated strong initial performance results in line with its target specifications.
405nm light output with/without AR-HR coating
For lasers to achieve optimal performance, the two edge surfaces of the device are coated with specialty optical materials. One is a highly reflective (HR) coating to achieve maximum light reflection - effectively a mirror surface that allows the light to reflect brightly back and forth. The other is an anti-reflective (AR) coating, designed to let the light pass through while ensuring that very little light is lost and that all light emission occurs from one end.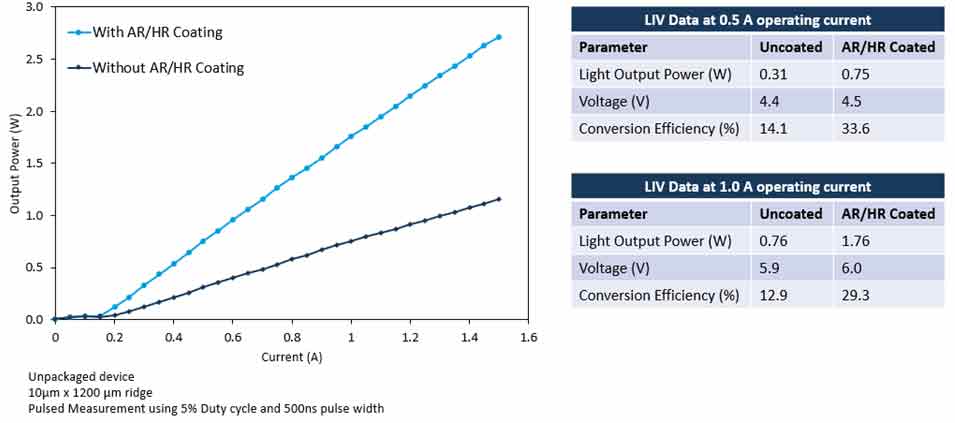 These specialist AR and HR coatings result in a significant improvement in the light output measured from the device. With the addition of these specialist coatings, BluGlass' 405nm laser output power has more than doubled, and they demonstrate strong initial performance specifications in-line with expectations for an unpackaged device.
BluGlass laser diode manufacturing steps
These devices are now in the process of being packaged at BluGlass' facility in the USA, before further burn-in testing and performance measurements can be completed. At this point, the devices can be tested according to industry standards and generate the final commercial specification of the BluGlass 405nm product design. Additional laser diode designs of other wavelengths and product specifications are also progressing through the firm's development pipeline and various manufacturing steps.
BluGlass says that it remains on track to provide sample products to customers in early 2021 to meet its technology, manufacturing and commercial milestones, in line with its published roadmap.
BluGlass demos working 405, 420 and 450nm laser designs
BluGlass commissions US laser diode test facility
BluGlass reports progress in Laser Diode business and micro-LED and LED programs, and cost saving for 2020
Visit: www.bluglass.com.au