News: Microelectronics
8 March 2021
Toshiba launches 3300V, 800A SiC MOSFET module for industrial applications
Tokyo-based Toshiba Electronic Devices & Storage Corp (TDSC) - spun off from Toshiba Corp in July 2017 - has launched the MG800FXF2YMS3 silicon carbide (SiC) MOSFET module (for volume production from May), which integrates newly developed dual-channel SiC MOSFET chips with ratings of 3300V and 800A, for industrial applications.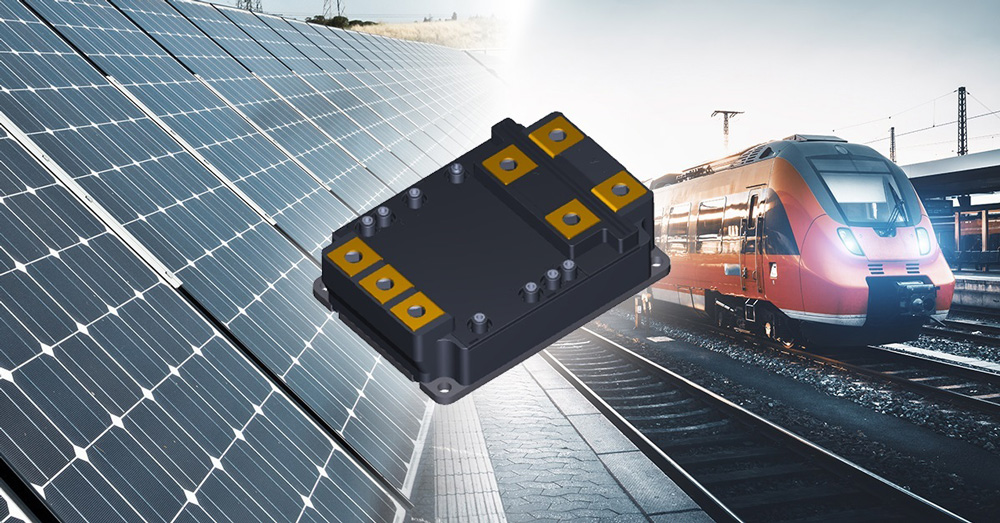 Picture: Toshiba's MG800FXF2YMS3, a SiC MOSFET module for industrial applications including railways vehicle and renewable-energy power generation systems.
Features include: drain-source voltage rating VDSS=3300V; drain current rating ID=800A dual; high channel temperature range Tch=175°C; low loss (Eon=250mJ, Eoff=240mJ; and VDS(on)sense=1.6V, typical); low stray inductance Ls=12nH (typical); and high-power-density small iXPLV package.
To achieve a channel temperature of 175°C, the new device adopts an iXPLV (intelligent fleXible Package Low Voltage) package with silver sintering internal bonding technology and high mounting compatibility The new module meet the needs for high-efficiency, compact equipment for industrial applications such as converters and inverters for railway vehicles, renewable-energy power generation systems, and industrial motor control equipment.
Toshiba shipping 1200V SiC MOSFET
Tags: Toshiba SiC power MOSFET