News: Suppliers
10 August 2023
Veeco's Q2 record semiconductor revenue drives growth
For second-quarter 2023, epitaxial deposition and process equipment maker Veeco Instruments Inc of Plainview, NY, USA has reported revenue of $161.6m, down on $164m a year ago but up 5% on $153.5m last quarter, and near the top end of the $145–165m guidance range.
Growth was driven by the Semiconductor segment (Front-End and Back-End, as well as EUV Mask Blank systems and Advanced Packaging) contributing record revenue of $106m (65% of total revenue), up 14% on $93m (60% of revenue) last quarter and up 9% on $97.5m (59.5% of revenue) a year ago, led by record laser annealing shipments. "We continue to execute our Laser Annealing growth strategy in advanced-node logic and memory by winning new customers and applications," notes CEO Bill Miller Ph.D. Specifically, Veeco (1) shipped LSA systems and received follow-on orders from a tier-1 customer for high-bandwidth memory, enabling artificial intelligence; (2) received LSA orders from tier-1 logic customers for their most advanced nodes; and (3) made further progress towards shipping evaluation systems for nanosecond annealing (NSA) and ion beam deposition (IBD) for advanced-node semiconductor applications.
The Compound Semiconductor sector (Power Electronics, RF Filter & Device applications, and Photonics including specialty, mini- and micro-LEDs, VCSELs, laser diodes) contributed $24m (15% of total revenue), down from $31.1m (19% of revenue) a year ago but up slightly from $21m (14% of revenue) last quarter, driven by system shipments for photonics applications.
The Data Storage segment (equipment for thin-film magnetic head manufacturing) contributed $14m (9% of total revenue), down from $22m (14% of revenue) last quarter and $21.5m (13.1% of revenue) a year ago.
The Scientific & Other segment (research institutions and other applications) contributed $17m (11% of total revenue), down slightly from $18m (12% of total revenue) last quarter but up from $13.8m (8.4% of total revenue) a year ago.
By region, the Asia-Pacific (excluding China) rose from 25% of total revenue last quarter to 36% in Q2/2023, due to a significant increase in semiconductor system sales, while China fell back from 40% to 31% of revenue, following last quarter's spike in shipments of LSA system for trailing-edge semiconductor nodes. The USA rose from 20% to 22% of revenue, while Europe, Middle-East & Africa (EMEA) fell from 15% to 11% of revenue.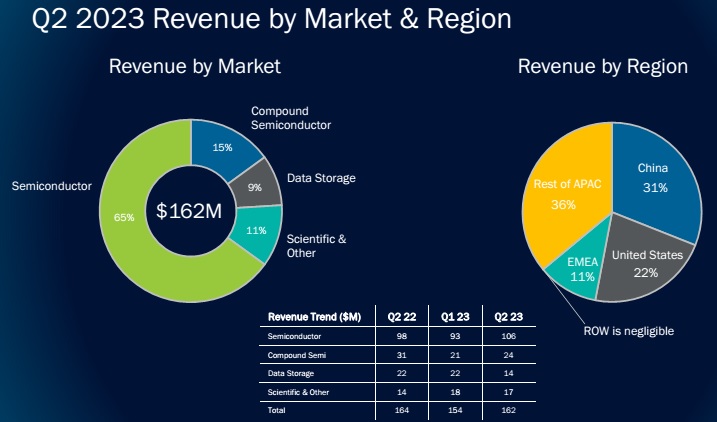 On a non-GAAP basis, gross margin was 42.7%, up from 41.5% last quarter and 40.3% a year ago, and above the expected 42%, boosted by a favorable product mix as well as lower spending in service and operations.
Operating expenses have risen from $43.2m a year ago and $43.3m last quarter to $44.8m. "We continue to focus on cost management while maintaining investment for growth," says chief financial officer John Kiernan.
Net income was $20.6m ($0.36 per diluted share), up from $16.9m ($0.30 per diluted share) last quarter, and exceeding the guidance range of $14–20m ($0.26–0.34 per diluted share).
Cash flow from operations has fallen further, from $14m last quarter to $11m. Capital expenditure (CapEx) has almost halved from last quarter, to $4m.
During the quarter, cash and short-term investments rose by $34m to $287m, driven mainly by $24m of net proceeds from a refinancing (completing a private offering of $230m of 2.875% convertible notes due in 2029 while repurchasing $206m of the outstanding 3.5% convertible notes due in 2025 and 3.75% convertible notes due in 2027).
Long-term debt rose hence from $254.7m to $274m, representing the carrying value of about $282m of convertible notes.
Inventory rose by $19m to $244m, and days of inventory (DOI) from 213 to 225 days, due to continued investment in the firm's evaluation program and to support revenue growth in second-half 2023.
"We expect opportunities for our technologies to grow as customers continue to adopt our products for their most advanced-node devices used for high-performance computing and artificial intelligence," says Miller.  
For third-quarter 2023, Veeco expects revenue of $155–175m, with Semiconductor down slightly (after Q2's record), Compound Semiconductor flat, Data Storage bouncing back by more than doubling (to about $30m), and the Scientific & Other segment flat.
Gross margin should be 42–43%. Despite operating expenses rising slightly to $45–47m, net income should be steady at $17–23m ($0.30–0.40 per diluted share).
Based on current backlog and expected growth trajectory in second-half 2023, for full-year 2023 Veeco has reiterated its revenue outlook of $630–670m (relatively flat on 2022's $646.1m), despite China comprising just 30% of total revenue after declining in second-half 2023. However, the firm has raised its projection for gross margin from 41–42% to 42–43%. Together with a reduction in net interest expense and a lower projected tax rate. Veeco has raised its projection for diluted earnings per share (EPS) from $1.15–1.35 to $1.30–1.50 (compared with $1.57 for 2022).
"Our opportunity in the compound semiconductor market is driven by demand for epitaxy equipment for power electronics applications, including silicon carbide and gallium nitride, in addition to photonics applications such as micro-LED," says Miller.
"Integration of our silicon carbide CVD technology is progressing well [following the acquisition of Epiluvac AB of Lund, Sweden at the end of January] and customer engagement remains healthy," says Miller. "We expect the demo-ready system by year-end, in anticipation of several evaluations with tier-1 customers next year. We believe our innovative system design offers an opportunity for a differentiated solution and are optimistic our sales, service and manufacturing infrastructure can position us to gain share in this high-growth market," he adds. "We also remain committed to our opportunities in GaN and micro-LED, as long-term fundamentals and these markets remain positive."
Veeco proposes private offering of $200m of convertible senior notes
Veeco's semiconductor-related revenue up 20% year-on-year in Q1
Veeco grows revenue 11% in 2022, despite 10.5% dip in Q4 driven by smartphone-related 5G RF weakness
Veeco acquires silicon carbide CVD system maker Epiluvac
Veeco grows revenue 4.9% in Q2, despite supply chain constraints
Visit: www.veeco.com