News: Microelectronics
2 February 2023
Wolfspeed chooses Germany for site of largest silicon carbide device fab
Wolfspeed Inc of Durham, NC, USA has announced plans to build a highly automated 200mm-wafer silicon carbide (SiC) device fabrication facility — the largest in the world — in Ensdorf near Saarbrücken, in the south-western German state of Saarland. The firm's first fab in Europe will be its most advanced, creating an SiC development and production facility in the European Union (EU) to support growing demand for a wide variety of automotive, industrial and energy applications.
The fab is planned as part of a collaboration within the IPCEI (Important Project of Common European Interest) for the Microelectronics and Communication Technologies framework, and is dependent on state aid approval from the European Commission. IPCEI funding is intended to support technology development and initial deployment within this project. Germany-based ZF Friedrichshafen AG (one of the world's largest suppliers to the automotive industry) also intends to support the new construction by making a sizable financial investment as part of a new strategic partnership.
The European fab is an important part of the Wolfspeed's broader $6.5bn capacity expansion, which includes opening the 200mm Mohawk Valley Fab in Marcy, NY, USA in April 2022, and the construction in North Carolina of the 445-acre (180-hectare) John Palmour Manufacturing Center for Silicon Carbide (the world's largest SiC crystal growth facility), which will expand the firm's existing materials capacity by more than 10x. The first phase of construction for the materials facility is due to be complete by the end of fiscal 2024.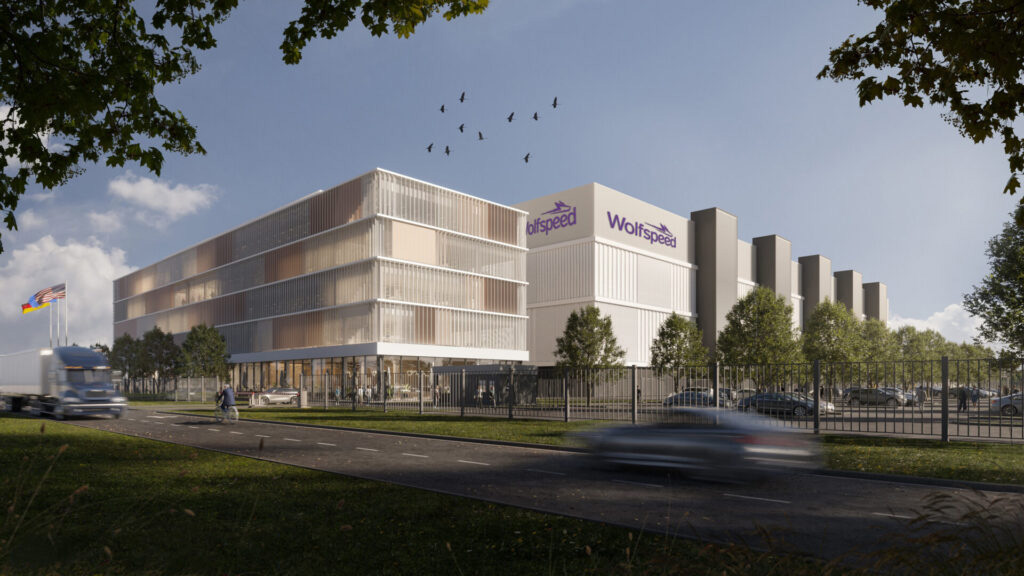 "This new fab represents a big step forward for both Wolfspeed and our regional customers, as we enhance the ecosystem for semiconductor production and innovation," says president & CEO Gregg Lowe. "Silicon carbide devices offer greater energy efficiency and are essential in the global shift toward sustainable electrification," he adds. "This new facility will be crucial to supporting our expansion in a capacity-constrained industry that is growing very rapidly, especially across the electric vehicle (EV) marketplace. It was important for us to have a facility located in the heart of Europe, near many of our customers and partners, to foster collaboration on the next generation of silicon carbide technologies."
The announcement was made at an event on the 35-acre (14-hectare) site of the planned fab, a former coal-fired power plant in Saarland. To welcome Wolfspeed to the region, German Chancellor Olaf Scholz was in attendance, along with Robert Habeck, Vice Chancellor of Germany and Federal Minister for Economic Affairs and Climate Action, and Saarland's Minister-President Anke Rehlinger. Representing the new partnership were ZF's CEO Holger Klein and board member Stephan von Schuckmann. Wolfspeed also announced a strategic partnership with ZF that includes an investment in Wolfspeed as well as a joint Silicon Carbide R&D facility in Germany, which is part of the same IPCEI framework. Fab construction is expected to begin in first-half 2023, subject to approval by the EU Commission.
"This project is a great transformation driver and a job engine for a traditionally industrial region," said Saarland's Minister-President Anke Rehlinger. "Furthermore, it bundles important know-how in Europe and contributes to the implementation of the European Green Deal by reducing energy consumption and CO2 emissions."
The new fab will be designed for manufacturing processes to produce the future generation of silicon carbide devices. It will also employ innovative sustainability measures, including a high proportion of recycled water and a reduced emission footprint, which is intended to serve as a model for more sustainable fabs in the future. The fab should employ more than 600 people when fully operational.
Wolfspeed and ZF to build SiC device fab in Germany, says Handelsblatt
Wolfspeed opens Mohawk Valley 200mm silicon carbide fab
ZF and Cree partner on SiC-based power inverters for EVs
Tags: Wolfspeed Power electronics
Visit: www.zf.com
Visit: www.wolfspeed.com