31 August 2020
Latest issue of Semiconductor Today now available
For coverage of all the key business and technology developments in compound semiconductors and advanced silicon materials and devices over the last month, subscribe to Semiconductor Today magazine.
Published today and free of charge, Semiconductor Today's latest issue covers all that is new in gallium arsenide (GaAs), indium phosphide (InP), nitrides, silicon carbide (SiC), silicon germanium (SiGe) and other compound semiconductor materials. The magazine also covers the devices and applications that these materials enable.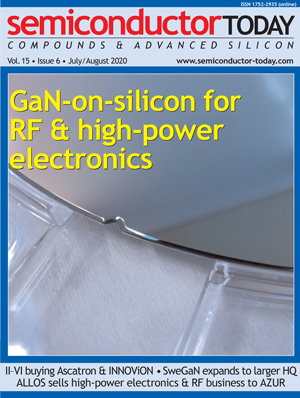 Click here or issue cover for direct access
Articles in this issue include:
Carrier-localization engineering for DUV LEDs
Effectively releasing tensile stress in AlN thick film for lowdefect-density AlN/sapphire template
Phosphor-free white LEDs for efficient displays & communications
Baking and plasma-enhanced low-temperature GaN ALD
Boosting mobility in InAlGaN-barrier heterostructure
GaN complementary logic on silicon using normally-off transistors
ALLOS transferring RF & power electronics patents & knowhow to new GaN-on-Si entrant Azur Space
Smartphone shipments fall 15.7% year-on-year to 279.7 million in Q2
Plus, there's the news from organisations such as: II-VI, Aixtron, ALLOS, AMEC, AOI, Ascatron, AWSC, AXT, BluGlass, Compound Photonics, CompoundTek, Cree, CST Global, EasyGaN, Emcore, EPC, EVG, First Solar, GaN Systems, Infineon, Infinera, IntelliEPI, Instrument Systems, Leadrive Technology, Lumentum, Lumileds, MACOM, Mitsubishi, Navitas, NeoPhotonics, ON Semiconductor, Qorvo, ROHM, Siltronic, Skyworks, SweGaN, Transphorm, Ushio, Veeco, VIGO, and much more.
See company profiles from Aixtron, EV Group, Goodfellow, k-Space, LayTec, Oxford Instruments, and Veeco.
If your company is a supplier of equipment, materials, or services for the manufacture of compound semiconductor wafers and devices, and you are involved in marketing those products, then please see Semiconductor Today's 2020 Media Kit.
Semiconductor Today is freely available to all. To learn more and to subscribe, visit: Subscribe for free.