30 December 2020
Latest issue of Semiconductor Today now available
For coverage of all the key business and technology developments in compound semiconductors and advanced silicon materials and devices over the last month, subscribe to Semiconductor Today magazine.
Published today and free of charge, Semiconductor Today's latest issue covers all that is new in gallium arsenide (GaAs), indium phosphide (InP), nitrides, silicon carbide (SiC), silicon germanium (SiGe) and other compound semiconductor materials. The magazine also covers the devices and applications that these materials enable.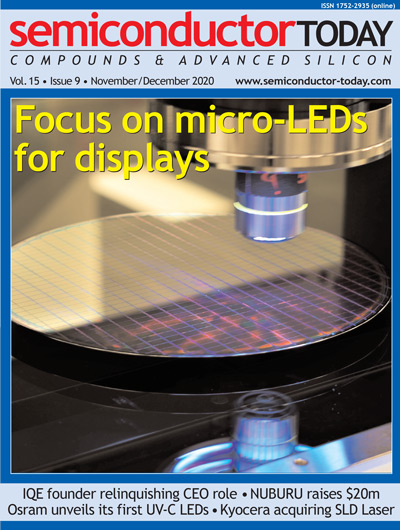 Click here or issue cover for direct access
Articles in this issue include:
InAs quantum dot lasers on silicon-on-insulator substrates
BiTeSe optoelectronic functional device
Simultaneous emission–detection
Apple's mLED supply chain to disrupt display industry?
Green and orange LEDs on porous gallium nitride
Turning point in RF GaN patenting over last 2 years
Power module market growing at 9.1% CAGR over 2019–2025
Plus, there's the news from organisations such as: 5N Plus, Acacia, Aixtron, Aledia, Altum RF, AOI, AquiSense, AXT, Ayar Labs, Crystal IS, CSA Catapult, Denso, Emcore, EPC, EpiWorld, GaN Systems, GlobalFoundries, GlobalWafers, GTAT, Hitachi High-Tech, HRL Laboratories, IGaN, Imec, Infineon, IQE, ITRI, Kyocera, LayTec, Lumcore, Lumentum, Lumileds, MACOM, Mitsubishi Electric, Navitas Semiconductor, NeoPhotonics, NREL, Osram, Picosun, Porotech, POET, Qorvo, ROHM, SDK, SemiLEDs, Seoul Semiconductor, Sivers Photonics, Skyworks, SweGaN, Toyoda Gosei, Transphorm, UnitedSiC, Ushio, Vector Photonics, Veeco, VIGO, VisIC, and much more.
See company profiles from Aixtron, EV Group, Goodfellow, k-Space, LayTec, Oxford Instruments, and Veeco.
If your company is a supplier of equipment, materials, or services for the manufacture of compound semiconductor wafers and devices, and you are involved in marketing those products, then please see Semiconductor Today's 2020 Media Kit.
Semiconductor Today is freely available to all. To learn more and to subscribe, visit: Subscribe for free.