6 November 2020
Latest issue of Semiconductor Today now available
For coverage of all the key business and technology developments in compound semiconductors and advanced silicon materials and devices over the last month, subscribe to Semiconductor Today magazine.
Published today and free of charge, Semiconductor Today's latest issue covers all that is new in gallium arsenide (GaAs), indium phosphide (InP), nitrides, silicon carbide (SiC), silicon germanium (SiGe) and other compound semiconductor materials. The magazine also covers the devices and applications that these materials enable.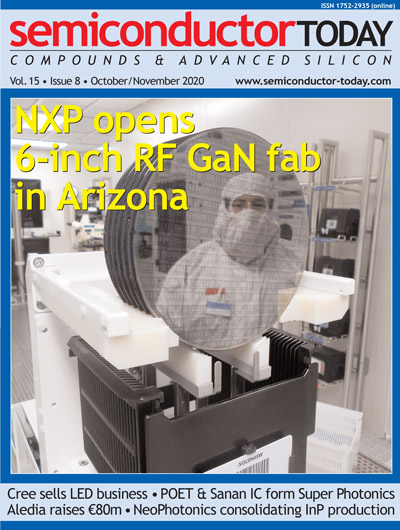 Click here or issue cover for direct access
Articles in this issue include:
Large-area liquid-phase indium–V growth on SiO2
Boron strain therapy for high-indium-content InGaAs layers
VCSEL market to grow at 18.3% CAGR from $1bn in 2020 to $2.7bn in 2025
GaN VCSEL with electrically conductive bottom mirror and contact
UVC LED market growing at 61% CAGR to $2.5bn in 2025
Halogen-free vapor phase epitaxy for gallium nitride
Avoiding mobility collapse in high-voltage GaN power devices
Plus, there's the news from organisations such as: II-VI, Acacia, Aixtron, Aledia, AquiSense, Ascatron, Axus, BluGlass, Cree, Crystal IS, CSconnected, Emcore, EPC, EVG, First Solar, GaN Systems, Gelest, GeneSiC, IGaN, Inphi, Infineon, IQE, Lextar, Lumileds, Marvell, Microchip Technology, Midsummer, Mitsubishi Chemical, Modulight, NeoPhotonics, NXP, Osram, Picosun, POET, Qorvo, Riber, Rockley, SDK, Seoul Semiconductor, Toshiba, Tower Semiconductor, Transphorm, Veeco, VIGO, VisIC, WIN Semiconductors, and much more.
See company profiles from Aixtron, EV Group, Goodfellow, k-Space, LayTec, Oxford Instruments, and Veeco.
If your company is a supplier of equipment, materials, or services for the manufacture of compound semiconductor wafers and devices, and you are involved in marketing those products, then please see Semiconductor Today's 2020 Media Kit.
Semiconductor Today is freely available to all. To learn more and to subscribe, visit: Subscribe for free.