30 September 2020
Latest issue of Semiconductor Today now available
For coverage of all the key business and technology developments in compound semiconductors and advanced silicon materials and devices over the last month, subscribe to Semiconductor Today magazine.
Published today and free of charge, Semiconductor Today's latest issue covers all that is new in gallium arsenide (GaAs), indium phosphide (InP), nitrides, silicon carbide (SiC), silicon germanium (SiGe) and other compound semiconductor materials. The magazine also covers the devices and applications that these materials enable.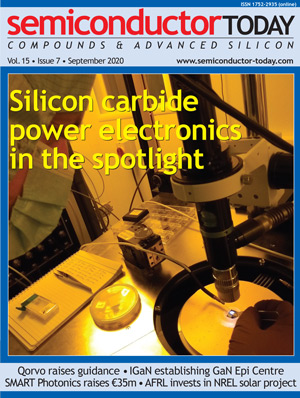 Click here or issue cover for direct access
Articles in this issue include:
CW operation of semi-polar GaN-on-sapphire laser
First claim of nitrogen-polar III–nitride tunnel-junction LEDs
Improving MOCVD tunnel junctions for gallium nitride μLEDs
Wafer-scale micro-LEDs transferred onto adhesive film for planar and flexible displays
Aledia benefits from strong patent portfolio in GaN-on-Si nanowire LEDs
Transfer printing & self-aligned etching for E-mode GaN transistors
Improving AlN nucleation and regrowth on sapphire
Gallium nitride & silicon carbide power semiconductor market
Smartphone production falls a record 16.7% year-on-year in Q2
Plus, there's the news from organisations such as: Aixtron, AMF, Azur, Bridgelux, CompoundTek, DenseLight, Emcore, EPC, First Solar, Fukushima SiC Applied Engineering, GaN Systems, Guerrilla RF, Hamamatsu, IGaN, Infineon, Inseto, Lite-on, Lumileds, Mitsubishi, Navitas, NeoPhotonics, NREL, Osram, Picosun, POET, pSemi, Qorvo, Rockley, ROHM, SETi, Seoul Semiconductor, Sheaumann Laser, Skyworks, SMI, SweGaN, Teledyne, Toyoda Gosei, Transphorm, Ushio, VIGO, and much more.
See company profiles from Aixtron, EV Group, Goodfellow, k-Space, LayTec, Oxford Instruments, and Veeco.
If your company is a supplier of equipment, materials, or services for the manufacture of compound semiconductor wafers and devices, and you are involved in marketing those products, then please see Semiconductor Today's 2020 Media Kit.
Semiconductor Today is freely available to all. To learn more and to subscribe, visit: Subscribe for free.