30 April 2021
Latest issue of Semiconductor Today now available
For coverage of all the key business and technology developments in compound semiconductors and advanced silicon materials and devices over the last month, subscribe to Semiconductor Today magazine.
Published today and free of charge, Semiconductor Today's latest issue covers all that is new in gallium arsenide (GaAs), indium phosphide (InP), nitrides, silicon carbide (SiC), silicon germanium (SiGe) and other compound semiconductor materials. The magazine also covers the devices and applications that these materials enable.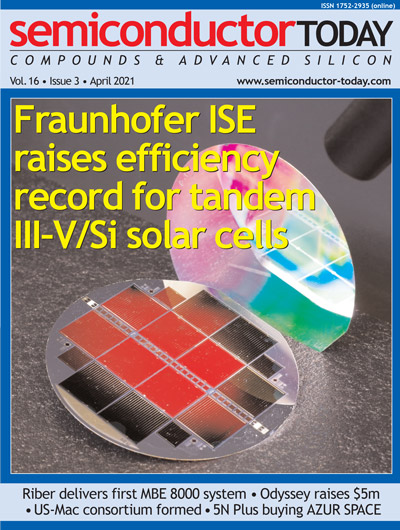 Click here or issue cover for direct access
Articles in this issue include:
KAUST contributes to development of perovskite-based MQWs
On-chip integration of III–N LED/photodetector
Micro-LEDs to challenge OLED displays?
Over $5bn spent on micro-LED development
Compositional fluctuations in high-In-content InGaN LEDs
HEMTs from AlScN-barrier MOCVD
Transistor cut-off frequency at 738GHz
Hybrid III–V TFETs and MOSFETs on silicon
Plus, there's the news from organisations such as: II-VI Inc, 5N Plus, Aixtron, Altum RF, AXT, Camtek, Coherent, Cree, CSconnected, Emcore, EPC, First Solar, Fraunhofer IAF, GlobalFoundries, IQE, Kyoto Semiconductor, LayTec, Lumileds, Luminus, Lynred, MACOM, Marvell Technology, Midsummer, MixComm, Navitas, NeuroSys, Newport Wafer Fab, nLight, NoMIS Power, Odyssey, Osram, Picosun, POET, Qorvo, ROHM, Samsung, SemiLEDs, Seoul Semiconductor, Silvaco, Skyworks, SPTS, STMicroelectronics, Vector Photonics, Wolfspeed, and much more.
See company profiles from Aixtron, EV Group, Goodfellow, k-Space, LayTec, Oxford Instruments, and Veeco.
If your company is a supplier of equipment, materials, or services for the manufacture of compound semiconductor wafers and devices, and you are involved in marketing those products, then please see Semiconductor Today's 2021 Media Kit.
Semiconductor Today is freely available to all. To learn more and to subscribe, visit: Subscribe for free.