News: Suppliers
9 August 2021
Veeco's Q2 revenue up a more-than-expected 48% year-on-year to $146.3m
For second-quarter 2021, epitaxial deposition and process equipment maker Veeco Instruments Inc of Plainview, NY, USA has reported revenue of $146.3m (exceeding the $125-145m guidance). This is up 9% on $133.7m last quarter (driven largely by 27% growth for Data Storage) and up 48% on $98.6m a year ago (due to growth in the Semiconductor, Compound Semiconductor and Data Storage segments).
Data Storage contributed $52m (35% of total revenue), up 27% on $41m last quarter and 84% on $28m a year ago, driven by both capacity and technology additions by customers.
Semiconductor (Front-End and Back-End, as well as EUV Mask Blank systems and Advanced Packaging) contributed $54m (37% of total revenue), up slightly on $52m last quarter and up 43% on $38m a year ago, driven by laser annealing systems as well as lithography systems for advanced packaging applications.
Compound Semiconductor (Power Electronics, RF Filter & Device applications, and Photonics including specialty, mini- and micro-LEDs, VCSELs, laser diodes) contributed $24m (17% of total revenue), roughly level with last quarter and up 37% on $18m a year ago, driven by wet processing systems for RF applications.
The Scientific & Other segment contributed $16m (11% of total revenue), roughly level with both last quarter and a year ago.
By region, the USA comprised 46% of revenue (up from 34% last quarter), driven by ion beam systems shipped to Data Storage customers. Europe, Middle-East & Africa (EMEA) comprised just 6% (down from 10%), Asia-Pacific (excluding China) 34% (down from 41%), and China 14% (down slightly from 15%). "We expect the revenue percentage from China to trend higher, given our recent order activity and improving ability to obtain export licenses," notes chief financial officer John Kiernan.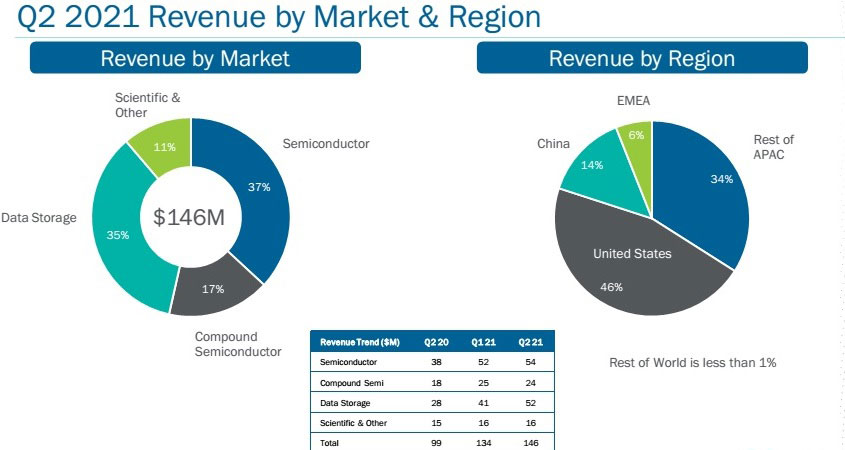 "Veeco delivered solid performance in the second quarter with revenue and EPS at the high end of our guidance range," says CEO Bill Miller.
On a non-GAAP basis, gross margin was 41.6%, flat with last quarter but up from 43% a year ago, and toward the top end of the 40-42% guidance range.
Operating expenses were $39.6m, up from $34.4m a year ago but roughly level with last quarter (and cut from Q1's 29% to Q2's 27% as a proportion of revenue).
Net income has risen further, from $5.5m ($0.11 per diluted share) a year ago and $12.6m ($0.25 per diluted share) last quarter to $17.9m ($0.35 per diluted share).
Operating cash flow was steady at $10m. Capital expenditure (CapEx) was $7m, but this includes $4m for the construction project at Veeco's new manufacturing facility in San Jose, CA (to meet demand from Semiconductor customers). "We expect capital spending on our facility expansion project to increase in the coming quarters," notes Kiernan. "We continue to improve our operating model, while making investments for future growth," adds Miller.
During the quarter, cash and short-term investments hence rose by $2m to $330m. Long-term debt rose slightly from $325m to $328m, representing the carrying value of $389m in convertible notes.
From a working capital perspective, due to the timing of shipments in the quarter, accounts receivable rose further from $87m to $108m, driving days sales outstanding (DSO) up from 59 days to 67 days. Due mostly to construction invoices for the firm's capital expansion project, accounts payable rose further from $43m to $55m, driving days payable outstanding (DPO) up from 49 days to 58 days. To support increased shipment volume and investments in evaluation systems, inventory was increased by $8m to $164m.
"We continue to see strong demand for our wet processing equipment from our RF customers," notes Miller. "5G communication is driving an increase in content per mobile device and our customers are responding by adding capacity for RF power amplifiers and filters. In fact, we had strong shipment and order activity during the quarter for RF applications," he adds.
"Our gallium nitride and arsenide phosphide MOCVD systems enable fast-charging and other power management solutions, 5G RF devices and micro-LEDs. These markets have tremendous growth potential and we're looking to build our market position," continues Miller. "Recent early-stage wins and evaluations underway for power and micro-LED applications give us confidence we'll grow in these emerging markets," he adds. "We also have two compound semiconductor tools out in the field. One is for 8-inch GaN-on-silicon power electronics at a foundry, pretty exciting opportunity as the world transitions from 6-inch to 8-inch. That tool just recently shipped. And we have another application for micro-LEDs in the compound semi space."
"We are on track to deliver exceptional growth in 2021, and our evaluation systems in the field are performing well, giving us confidence in our longer-term growth plan," says Miller. "In addition, progress on our new manufacturing facility, supporting the Semiconductor market, is on schedule and will enable us to meet future demand with increased manufacturing capacity."
For third-quarter 2021, Veeco expects revenue of $135-155m, with gross margin of 41-43%. Operating expenses should rise slightly to $40-42m as Veeco adds resources in R&D along with increasing sales & marketing expenses to support growth. ("We are on pace, however, for full-year OpEx as a percentage of revenue to decline compared to 2020," notes Kiernan.) Veeco forecasts net income of $13-23m ($0.25-0.44 per diluted share).
Q4/2021 is expected to be in the same revenue range as the firm's Q3 guidance. Therefore, for full-year 2021, Veeco now projects revenue growth of 25.5% to about $570m (above the prior guidance range of 17-21% growth to $540-560m, which itself had been raised from initial guidance of 17% growth to $520-540m). Earnings per share (EPS) are expected to be towards the high end of the guidance range of $1.10-1.30 (and above the initial guidance range of $1-1.20).
Veeco's Q1 revenue up 27.9% year-on-year to $133.7m
Veeco's revenue grows 24% in Q4, driven by advanced-node semiconductor and 5G RF compound semi markets
Veeco's revenue grows 14% in Q3
Veeco returns to positive operating cash flow as it completes restructuring
Visit: www.veeco.com