News: Suppliers
24 May 2021
Veeco's Q1 revenue up 27.9% year-on-year to $133.7m
For first-quarter 2021, epitaxial deposition and process equipment maker Veeco Instruments Inc of Plainview, NY, USA has reported revenue of $133.7m, down 3.7% on $138.9m last quarter but up 27.9% on $104.5m a year ago (and near the top end of the $115-135m guidance range), driven by the Semiconductor and Data Storage segments. Of Veeco's end-2020 order backlog of $366m (which was $100m up on end-2019), most was in the Data Storage segment, followed by Semiconductor, then Compound Semiconductor, and lastly Scientific & Other.
Data Storage hence contributed $41m (31% of total revenue) in Q1/2021, up from just $19.2m (14% of revenue) last quarter.
Semiconductor (Front-End and Back-End, as well as EUV Mask Blank systems and Advanced Packaging) contributed $51.6m (39% of total revenue), up on $37.4m a year ago, driven by laser annealing and lithography products.
Compound Semiconductor (Power Electronics, RF Filter & Device applications, and Photonics including specialty, mini- and micro-LEDs, VCSELs, laser diodes) contributed $24.8m (18% of total revenue), up on $18.4m a year ago, driven by wet-processing systems sold for RF applications.
The Scientific & Other segment contributed $16.4m (12% of total revenue), roughly level with $17.1m (12% of revenue) last quarter but up on just $9.8m a year ago.
By region; the Asia Pacific (excluding China) comprised 41% of total revenue (down from 48%), the USA 34% (up from 26%), China 15% (up slightly from 14%, after declining since Veeco exited the commodity LED MOCVD business at the end of 2018), Europe, Middle-East & Africa (EMEA) 10% (down from 12%), and the rest of the world (RoW) again less than 1%.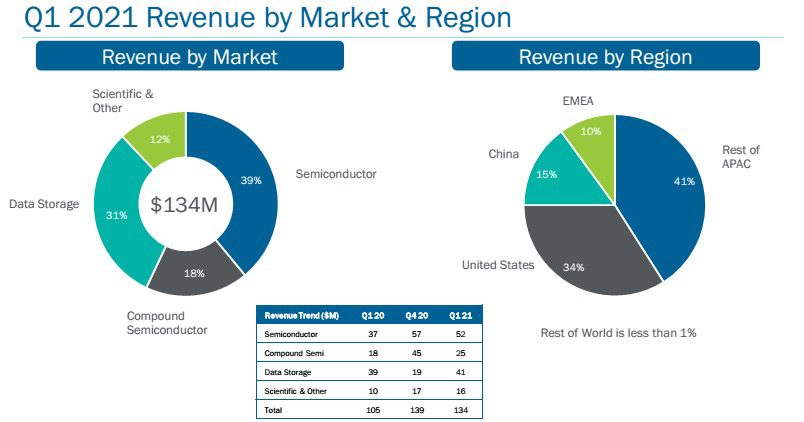 "We improved revenue and profitability year-on-year as we continued to invest for growth," says CEO William J. Miller Ph.D.
On a non-GAAP basis, gross margin was 41.5%, down on 44.9% a year ago but up slightly from 41.3% last quarter, and toward the top end of the 40-42% guidance range.
Operating expenses were $39.3m (29% of revenue), up from $34.2m a year ago but cut slightly from $39.7m last quarter.
Net income was $12.6m ($0.25 per diluted share), down from $15m ($0.30 per diluted share) last quarter but still up on $10.9m ($0.22 per diluted share) a year ago.
Cash flow from operations was $10m. Capital expenditure (CapEx) was $2m. During the quarter, cash and short-term investments hence rose by $8m, from $320m to $328m. Long-term debt rose slightly from $321m to $325m, representing the carrying value of $389m in convertible notes.
From a working capital perspective, accounts receivable rose from $80m to $87m, driving days sales outstanding (DSOs) back up from 52 days to 59 days. Accounts payable rose from $34m to $43m, with days payable outstanding (DPOs) increasing from 37 days to 49 days.
For second-quarter 2021, Veeco expects revenue to be roughly level at $125-145m, with increased Data Storage revenue (since most of the increased Data Storage order backlog of end-2020 should be delivered in Q2-Q3/2021.) but no significant LED-related sales in the Compound Semiconductor sector. Gross margin should be 40-42%. With operating expenses of $38-40m, net income is expected to be $9-18m ($0.17-0.35 per diluted share).
With revenue growth expected in second-half 2021 in not only the Data Storage segment but now also the Semiconductor segment (particularly laser annealing, as well as advanced packaging), Veeco has now raised its guidance for full-year 2021 revenue growth from 17% to 21% (to $540-560m). Gross margin is expected to also grow, while net income should be $1.10-1.30 per diluted share (up 40% year-on-year, rather than 28%).
To support the planned increase in volume in second-half 2021 and investments in evaluation systems, inventory has been raised further, from $146m to $156m, with days of inventory (DOI) rising from 159 days to 173 days.
"We are making progress toward our long-term growth by actively engaging with customers in the Semiconductor and Compound Semiconductor markets," says Miller. "We shipped multiple evaluation systems to leading device manufacturers as part of our strategy to penetrate targeted high-growth markets. Additionally, construction is well underway at our new San Jose manufacturing facility to better meet the demands of our Semiconductor customers," he adds.
"We are planning to have 10 evaluation systems in the field throughout 2021. Today, we have six in the field and four are planned to ship the rest of this year. We are making large investments in 24x7-service support," says Miller. "Of those 10 tools, five are laser annealing [for logic and memory]; two are MOCVD [one for 8-inch power electronics and one for micro-LED applications]; and two are in advanced packaging [one of which is a core Veeco technology being developed for the Semiconductor market, for shipping later this year]."
"In Compound Semiconductors, we have two product lines. One is wet processing, where we are seeing significant demand from customers for RF filters and RF power amplifiers, really driven by 5G adoption in handsets," says Miller. "In the MOCVD space, our business is at low levels, after exiting the commodity LED business. We've obviously restructured that business. We go to market with two products. One is gallium nitride. We have a single-wafer reactor. That is really tuned for the power electronics, RF and innovative silicon-based micro-LED applications. What we are seeing now is growth in GaN power applications, particularly at 8-inch… customers are moving from 6-inch to 8-inch format. Those customers that are doing that are choosing Veeco. So that's a driver of growth this year into next year. Longer-term opportunities like micro-LEDs… that is still further out on the horizon, like 2-3-plus years," he adds. "[For arsenide-phosphide (As/P) MOCVD] we go-to-market with Lumina batch tools. That's tuned for applications in photonics, such as indium phosphide lasers, VCSELs, as well as red micro-LEDs. We just recently shipped an evaluation system for micro-LEDs with this product. It's still further out, but that's certainly an opportunity for the company."
"We are encouraged by customer feedback and demo results from our gallium nitride and arsenide-phosphide MOCVD platforms. These products enable fast charging and other power management solutions, 5G RF devices and micro-LEDs," continues Miller. "Recent early-stage wins and an evaluation shipment position Veeco to grow with these emerging markets as they gain traction," he adds. "Most of these evals are lasting one year post-installation. So there may be a few that will be signed off late this year... mostly we'll be seeing those in the first half of 2022."
Veeco's revenue grows 24% in Q4, driven by advanced-node semiconductor and 5G RF compound semi markets
NCTU using Veeco's Propel MOCVD platform for GaN power and 5G device production
Veeco's revenue grows 14% in Q3
Veeco returns to positive operating cash flow as it completes restructuring
Veeco's Q1 revenue at high end of revised guidance range
Veeco launches Lumina As/P MOCVD platform
Visit: www.veeco.com