31 October 2021
Latest issue of Semiconductor Today now available
For coverage of all the key business and technology developments in compound semiconductors and advanced silicon materials and devices over the last month, subscribe to Semiconductor Today magazine.
Published today and free of charge, Semiconductor Today's latest issue covers all that is new in gallium arsenide (GaAs), indium phosphide (InP), nitrides, silicon carbide (SiC), silicon germanium (SiGe) and other compound semiconductor materials. The magazine also covers the devices and applications that these materials enable.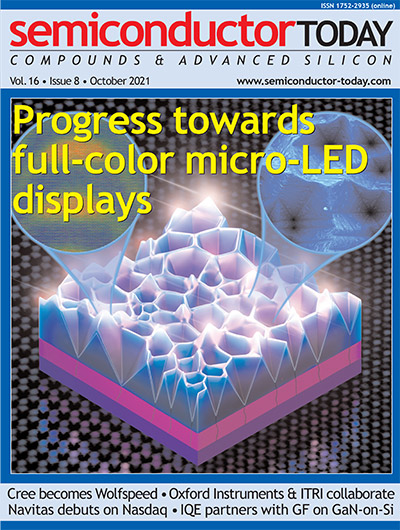 Click here or issue cover for direct access
Articles in this issue include:
MOCVD tunnel junctions beat ITO for blue micro-LEDs
Red InGaN micro-LEDs for displays
Increased current for red InGaN micro-LEDs
SMART uses intrinsic defects to form indium-rich quantum dots yielding long-wavelength InGaN LEDs
Stacking three III–nitride light-emitting diodes
More evidence for Auger causing GaN LED efficiency droop
Epitaxy equipment market growing at 8% CAGR to $1.1bn in 2026
GaN complementary logic platform
Plus, there's the news from organisations such as: III-V Epi, 5N Plus, II-VI Inc, AmpliTech Group, Aixtron, Ascent Solar, Axcelis, Cambridge GaN Devices, Cree, EPC, Gallium Semiconductor, GaN Systems, Guerrilla RF, IMEC, IQE, Keysight, Lumentum, MACOM, Meister Abrasives, Mitsubishi, Naprotek, Navitas, Nitride Semiconductors, NREL, Oxford Instruments, Phononic, Picosun, POET, Porotech, Princeton Infrared Technologies, Qorvo, Riber, ROHM, Showa Denko, Sivers Semiconductors, Toshiba, Transphorm, Trumpf, Vector Photonics, Veeco, Wolfspeed, Zephyr Solar, and much more.
See company profiles from Aixtron, EV Group, Goodfellow, k-Space, LayTec, Oxford Instruments, and Veeco.
If your company is a supplier of equipment, materials, or services for the manufacture of compound semiconductor wafers and devices, and you are involved in marketing those products, then please see Semiconductor Today's 2021 Media Kit.
Semiconductor Today is freely available to all. To learn more and to subscribe, visit: Subscribe for free.