31 March 2022
Latest issue of Semiconductor Today now available
For coverage of all the key business and technology developments in compound semiconductors and advanced silicon materials and devices over the last month, subscribe to Semiconductor Today magazine.
Published today and free of charge, Semiconductor Today's latest issue covers all that is new in gallium arsenide (GaAs), indium phosphide (InP), nitrides, silicon carbide (SiC), silicon germanium (SiGe) and other compound semiconductor materials. The magazine also covers the devices and applications that these materials enable.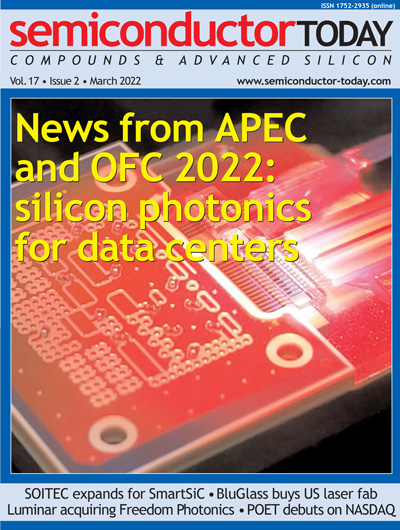 Click here or issue cover for direct access
Articles in this issue include:
InGaAs/colloidal nanocrystal infrared detector
Intermediate anneal therapy for quantum wells
Reliable 0.25μm GaN HEMTs for X-band applications
Sandia reports GaN diode with record 6.4kV breakdown
NiO/Ga

2

O

3

heterojunction power electronics devices
Boosting transconductance and squeezing off-current
Pushing indium phosphide DHBT frequency to 1.2THz
Plus, there's the news from organisations such as: 5N-Plus, II-VI Inc, Acacia Communications, Aixtron, AXT, BluGlass, Cambridge GaN Devices, CSconnected, EPC, EVG, Fraunhofer, GaN Systems, GlobalFoundries, Infineon, Innoscience, k-Space, Lumentum, Lumileds, Luminar, MACOM, McLaren Applied, Microchip Technology, Navitas, Neophotonics, Nexperia, Nuburu, NXP Semiconductors, POET, pSemi, Qorvo, Ranovus, Riber, Rohm, Samsung, Scintil Photonics, Seoul Viosys, Sivers Semiconductors, Skyworks, Soitec, Source Photonics, Taiyo Nippon Sanso, Teledyne, Toyoda Gosei, Transphorm, Trumpf, Vector Photonics, Veeco, Wolfspeed, and much more.
See company profiles from Aixtron, EV Group, Goodfellow, k-Space, LayTec, Oxford Instruments, and Veeco.
If your company is a supplier of equipment, materials, or services for the manufacture of compound semiconductor wafers and devices, and you are involved in marketing those products, then please see Semiconductor Today's 2021 Media Kit.
Semiconductor Today is freely available to all. To learn more and to subscribe, visit: Subscribe for free.