News: Suppliers
9 November 2021
Veeco's Q3 revenue up 34% year-on-year to $150m
For third-quarter 2021, epitaxial deposition and process equipment maker Veeco Instruments Inc of Plainview, NY, USA, revenue was $150.2m, up 3% on $146.3m last quarter and 34% on $112.1m a year ago (and towards the top end of the $135-155m guidance range), driven by record sales in its Semiconductor segment – due to shipments of laser annealing and EUV mask blank systems – and strong Data Storage segment revenue.
Semiconductor (Front-End and Back-End, as well as EUV Mask Blank systems and Advanced Packaging) contributed a record $76m (51% of revenue), up 42% on $53.7m (37% of total revenue) last quarter and up 127% on just $33.6m a year ago. "All three of our products serving the semiconductor markets [laser annealing for both advanced and trailing logic nodes, ion beam deposition systems for EUV mask blank production, and lithography for advanced packaging] are performing well and are expected to continue this momentum for the foreseeable future," comments CEO Bill Miller. "For a few quarters now, we have expressed increasing confidence in our advanced packaging opportunity. We had a strong equipment shipping quarter for our lithography systems and we had a repeat multi-system order from a leading OSAT [outsourced semiconductor assembly & test] to support production of GPUs and high-performance computing chips," he adds. "The investments we have made in evaluation systems, service, product development and manufacturing capacity have enabled success," says senior VP & chief financial officer John Kiernan.
Data Storage (ion beam deposition systems for cloud/data-center applications) contributed $39.3m (26% of revenue), down 25% on $52m (35% of total revenue) last quarter but up 6% on $36.9m a year ago, reflecting both capacity and technology additions by customers.
The Compound Semiconductor segment (Power Electronics, RF Filter & Device applications, and Photonics including specialty, mini- and micro-LEDs, VCSELs, laser diodes) contributed $23.3m (15% of revenue), down 12.4% on $26.6m a year ago but relatively flat on last quarter's $24.2m (17% of total revenue), driven by metal-organic chemical vapor deposition (MOCVD) systems as well as wet processing systems for power, RF and photonics applications.
The MOCVD business is operating at historically low revenues after exiting the commoditized LED sector, notes Miller. "We did a lot of work restructuring the business and pivoting towards new markets and new opportunities," he adds. "We go after the gallium nitride applications with our Propel single-wafer reactor. That can be used for both power electronics, RF devices as well as disruptive silicon-based micro-LED applications. We have a second product for arsenide-phosphide called the Lumina for applications in photonics such as indium phosphide lasers, VCSELs [vertical-cavity surface-emitting lasers] as well as red micro-LEDs. We are starting to gain traction in MOCVD."
The Scientific & Other segment (MBE/ALD/ion beam deposition systems for university and government research) contributed $11.4m (8% of revenue), down from $16.4m last quarter (11% of total revenue) and $15m a year ago.
By region, the Asia-Pacific (excluding China) comprised 40% of revenue (up from 34% last quarter), mainly from sales of ion beam and laser annealing systems to semiconductor customers. China comprised 18% (up from 14%), primarily from semiconductor systems (boosted by the improving ability to obtain export licenses). The USA comprised 33% (down from 46% last quarter), driven by ion beam system shipped to data storage customers. Europe, Middle-East & Africa (EMEA) comprised 9% (back up from 6%).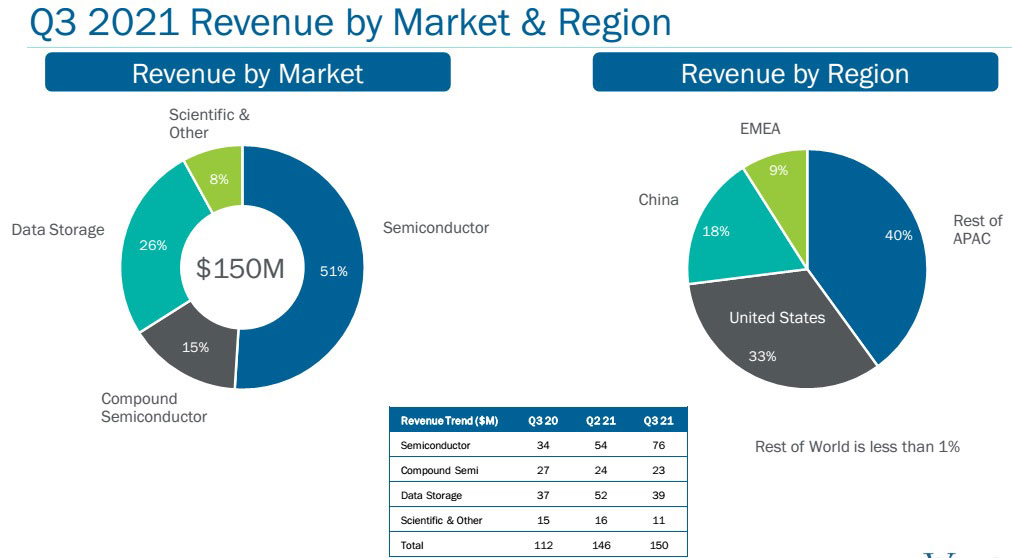 On a non-GAAP basis, gross margin was 42.6%, down from 44.5% a year ago but up from 41.6% last quarter, and towards the top end of the 41-43% guidance range.
Operating expenses were $39.6m, up from $35.7m a year ago but flat on last quarter (and a reduction from 27% to 26.4% of revenue). This was also better than the expected $40-42m.
Net income has risen further, from $11m ($0.22 per diluted share) a year ago and $17.9m ($0.35 per diluted share) last quarter to $20.5m ($0.40 per diluted share), towards the high end of the $13-23m ($0.25-0.44 per diluted share) guidance range.
Cash flow generated from operations has tripled from $10m last quarter to $30m (the highest quarterly amount in the last seven years), "demonstrating the effectiveness of our transformation," says Miller. Capital expenditure (CapEx) has jumped from $7m last quarter to $22m. However, this is mostly due to an increase from $4m to $18m in spending on the construction project at Veeco's new manufacturing facility in San Jose, CA (to meet demand from Semiconductor customers). Cash and short-term investments hence rose during the quarter by $6m to $336m. Long-term debt rose slightly from $328m to $332m, representing a carrying value of $389m in convertible notes.
For fourth-quarter 2021, Veeco expects revenue of $140-160m. Gross margin should be 41-43%. Operating expenses are expected to rise to $41-43m, as Veeco continues to invest for growth (although full-year OpEx as a percentage of revenue should decline, compared with 2020). Net income is expected to be $14-23m ($0.27-0.45 per diluted share).
For full-year 2021, Veeco has now raised its guidance for a fourth time, to revenue growth of 28% (from 2020's $454.2m) to $580m with earnings per share (EPS) up more than 50% to $1.35. Originally, in late October 2020, the firm forecasted 10% revenue growth. But it raised this guidance in February to 17% growth to $520-540m (with EPS of $1-1.20), then in early May to 17-21% growth to $540-560m (with EPS of $1.10-1.30), and in early August to 25.5% growth to $570m (with EPS towards the high end of the $1.10-1.30 guidance range).
For Q1/2022, Veeco sees revenue in a similar range to its Q4/2021 guidance.
"We are excited about the traction in our semiconductor business, which has been a focus of our transformation," says Miller. "We expect to ship the first systems in the coming weeks from our new state-of-the-art San Jose semiconductor equipment manufacturing facility, and to be fully transitioned into that new facility by Q3/2022," he adds. "We will also be bringing on new capacity as we bring our San Jose new facility online. This would effectively double the amount of output from our facility compared to our current facility there as well in support of requirements coming from the semiconductor industry," says Kiernan.
"In the near term, we expect to see revenue growth in early-stage micro-LEDs next year from a number of opportunities including AR/VR as well as other photonics applications," says Miller. "Also, we did seed the 8-inch GaN-on-silicon power market with multiple customers and placed an evaluation tool for 8-inch power electronics at a large foundry. We also placed an eval tool for red micro-LEDs," he adds.
"Led by our traction in the semiconductor market, demonstrated by application wins, backlog position and visibility, we are confident we will grow revenue in 2022," concludes Miller. "Our investments in evaluation systems and service infrastructure are setting us up for success in 2022 and beyond."
Veeco receives multi-system order for new dual-technology platform
Veeco's Q2 revenue up a more-than-expected 48% year-on-year to $146.3m
Veeco's Q1 revenue up 27.9% year-on-year to $133.7m
Veeco's revenue grows 24% in Q4, driven by advanced-node semiconductor and 5G RF compound semi markets
Veeco's revenue grows 14% in Q3
Visit: www.veeco.com